While the average rent in Barcelona fell during 2018, one of the most affordable districts – Nou Barris– has experienced the highest increase during the last year, above 13%. It has reached its historic peak in 2018, but it still is the cheapest area to rent. This is the evolution of rental price in Barcelona, ​​according to the report published by Idealista.
At the national level, the price of rental housing softened the growth rate during 2018 to close the year with an increase of 9.3% year-on-year. The price of the square meter remained at 10.6 euros per month, although in the last quarter of the year the rate of rise started to slow down.
Barcelona consolidates its position as the most expensive Spanish capital (17.3 euros / m2), despite the fact that prices fell by 1% compared to 2017. It is followed by Madrid (16.2 euros / m2), where rents rose by 4%. , 3%, moderating this increase over previous years. Even in the last quarter of the year, prices fell by 1.5%.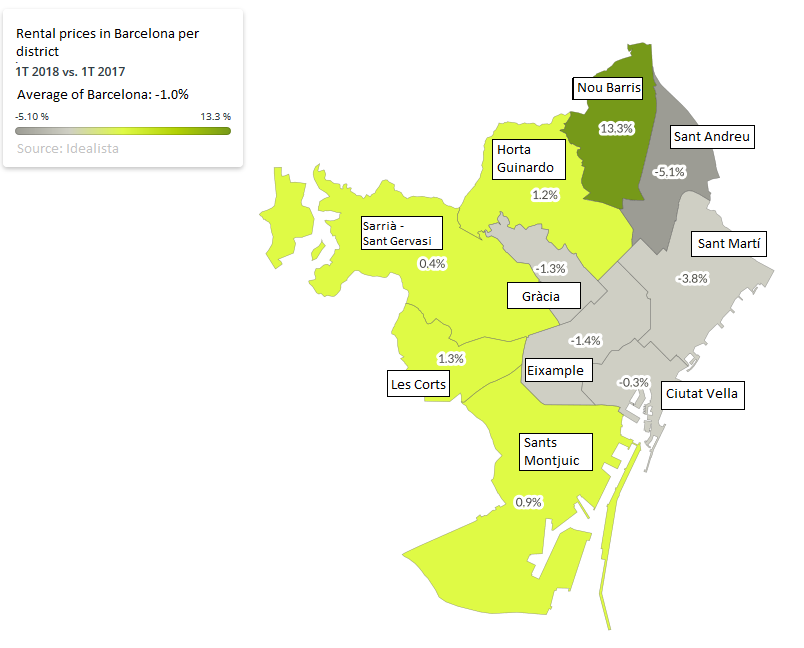 Evolution of rental prices in Barcelona
Barcelona has seen the price of its rents reduced by 1% during 2018, and for the second consecutive year it falls again (-2.4% in 2017). Prices remained stable in the last quarter of the year, although the Catalan capital is still the capital with the highest rental price in Spain.
Half of the districts registered higher prices than they had a year ago. The biggest increase was in Nou Barris (+13.3%), followed by Les Corts (+1.3%) and Horta Guinardó (+1.2%). The other half, on the other hand, registered new falls. The main one occurred in Sant Andreu (-5.1%) followed by Sant Martí (-3.8%) and Eixample (-1.4%).
Rental prices comparison per district
The highest prices at the end of 2018 are in Ciutat Vella (18.9 euros / m2), although they fell by 0.3% year-on-year in December. The districts of Sant Martí (18.5 euros / m2) and Eixample (17.9 euros / m2) have rents above the average of the city, which also fell at the end of the year. In Sarrià Sant Gervasi the price has reached 16.9 euros / m2 and in Gràcia at 15.9 euros / m2.
The cheapest rents, on the other hand, are in Sant Andreu (12.9 euros / m2), followed by Horta Guinardó (13.5 euros / m2) and Nou Barris (14 euros / m2), where despite reaching its historic maximum they remains the cheapest areas of Barcelona.
During 2018, Les Corts and Horta Guinardó also reached their maximum rental prices. The rest fell compared to their 2017 records. Gràcia is where prices have most distanced from the peak (-10.1%), followed by Eixample (-8.4%) and Ciutat Vella (-8.3%).
Related articles